Alkalizing Coffee with Wheat Grass
bio coffee (This product contains caffeine*)
Regular price

$32

Sale price

$26
shipping info
promo code restrictions
Ingredients
Instant Arabica coffee powder, non-dairy creamer (glucose syrup from tapioca starch and vegetable fat from palm kernel), oligosaccharide (from chicory root), wheatgrass powder.
Directions
Put one sachet in an 8-ounce cup. Pour in hot water and stir.
FAQ
Is Bio Coffee organic?
Bio Coffee is 100% organic. Because Bio Coffee is a globally made product, it is not certified by the USDA, however, it is certified by Moody International. Moody International is a global, multi-accredited organization that provides a range of comprehensive food safety certifications to companies internationally. The wheatgrass contained in the Bio Coffee is organically grown and cultivated through the use of biotechnology by INS Biotechnology Co. Ltd. in Thailand. INS's commitment to quality and excellence has caused it to emerge as one of the world's leading makers and suppliers of the finest herbs and nutritional supplements. The high-quality Arabica instant coffee contained in the Bio Coffee is made from prime washed, organically grown Arabica coffee beans.
What makes Bio Coffee alkaline?
The first and only alkaline coffee on the market today!
It's the main ingredient– the wheatgrass! Vegetables in general can effectively neutralize acids in the body because they are rich in bicarbonates and other alkaline minerals like calcium, magnesium, manganese, and iron. Among all vegetables, wheatgrass is hailed as the King of Alkaline Foods.

So treat yourself to the first and only alkaline coffee on the market today!
Is Bio Coffee a suitable product for vegans?
Yes! The four ingredients contained in Bio Coffee are high-quality Arabica Instant Coffee (made from prime washed, organically grown Brazilian Arabica coffee beans), wheatgrass, oligosaccharide (extracted using biotechnology), and a non-dairy creamer (made from glucose syrup and vegetable fat). Bio Coffee is specially formulated for those who are looking to attain and maintain optimal health. Bio Coffee is packaged in individual sachets so that your busy lifestyle doesn't cause you to miss out on what your body needs. It's nutrition that is accessible and convenient and best of all, it tastes amazing!
What is an oligosaccharide?
Oligosaccharides are carbohydrates that have 3-10 simple sugars linked together. They are found naturally, in many plants. Plants with large amounts of oligosaccharides include chicory root, Jerusalem artichokes, onions, leeks, garlic, legumes, asparagus, wheatgrass, and other plant foods. It is estimated that North Americans get about 1-3 grams naturally in their diets each day, while Europeans get 3-10 grams.

What is glucose syrup?
The name glucose comes from the Greek word glukus, meaning sweet. The suffix -ose denotes sugar. 98% of the time corn is the source of glucose in products made in the United States. Being a product of Malaysia, the glucose in Bio Coffee is derived from wheatgrass through the use of biotechnology. This allows for all of the ingredients in Bio Coffee to be 100% organic and from the best sources, nature provides.
How much fiber in one packet of Bio Coffee wheatgrass?
Each sachet of Bio Coffee includes 6 grams of fiber. That is approximately 25% of the recommended daily amount of fiber one should receive.
How many packets are in each box?
There are 16 packets in each box.
What makes Bio Coffee so good?
First, they start with the Arabica coffee bean which has the least amount of caffeine of all coffee beans. Next, the process of biotechnology (extracting specific parts of the wheatgrass and combining it with the coffee bean) adds the vitamins and nutrients our bodies should receive by eating 3-5 servings of green vegetables each day. Add an all-natural sweetener (oligo-saccharides) that does not raise blood sugar levels and now they're really cooking. 
Why is the Bio coffee in sachets?
Sachets are used to package the coffee and to seal in the freshness of the wheatgrass without having to use any preservatives or artificial chemicals. The sachets protect the four ingredients from contamination and make it easy and convenient to carry and consume where ever you go. Just add hot water.
*These statements have not been evaluated by the FDA. This product is not intended to diagnose, treat, cure, or prevent any disease.
click for prop 65 info
click for disclaimer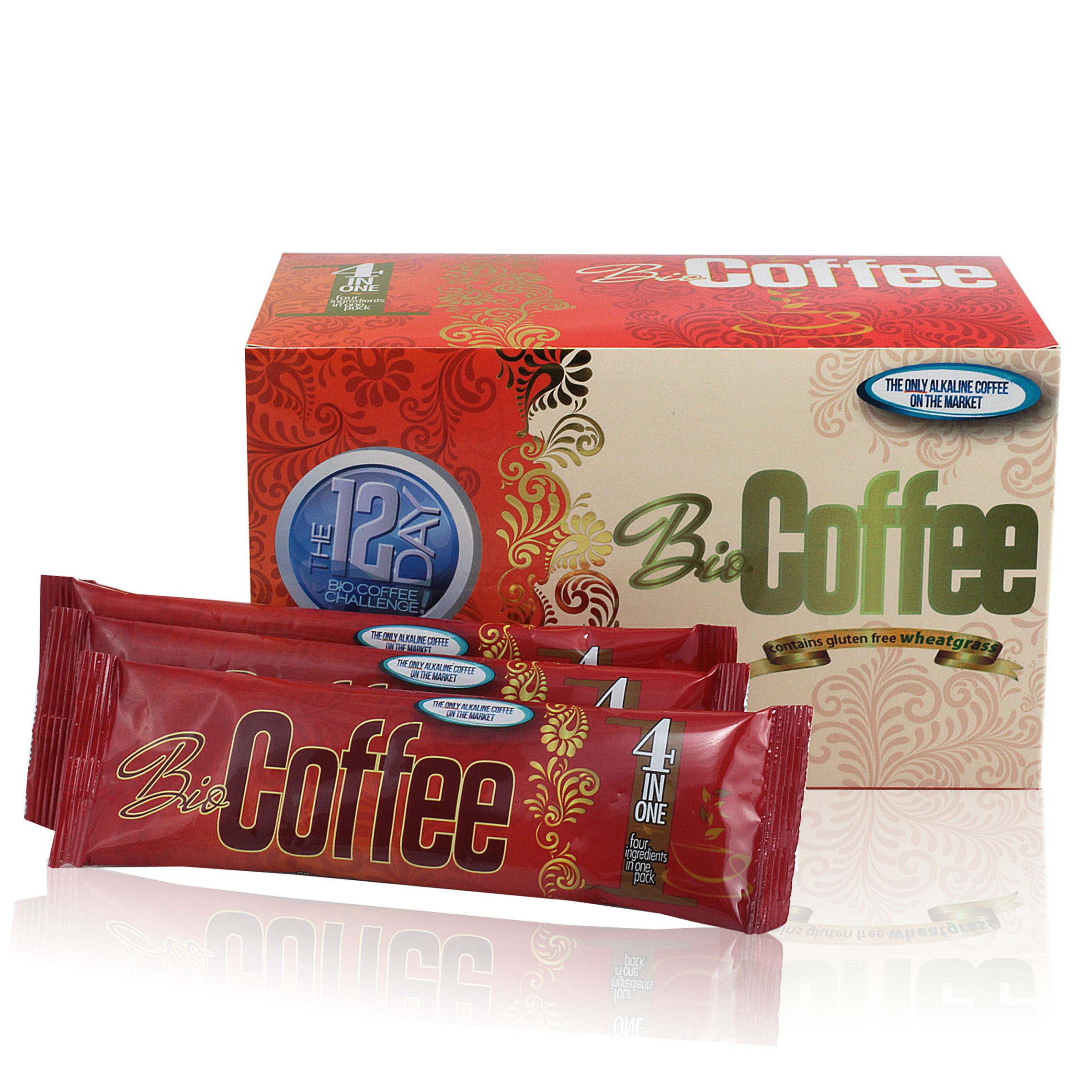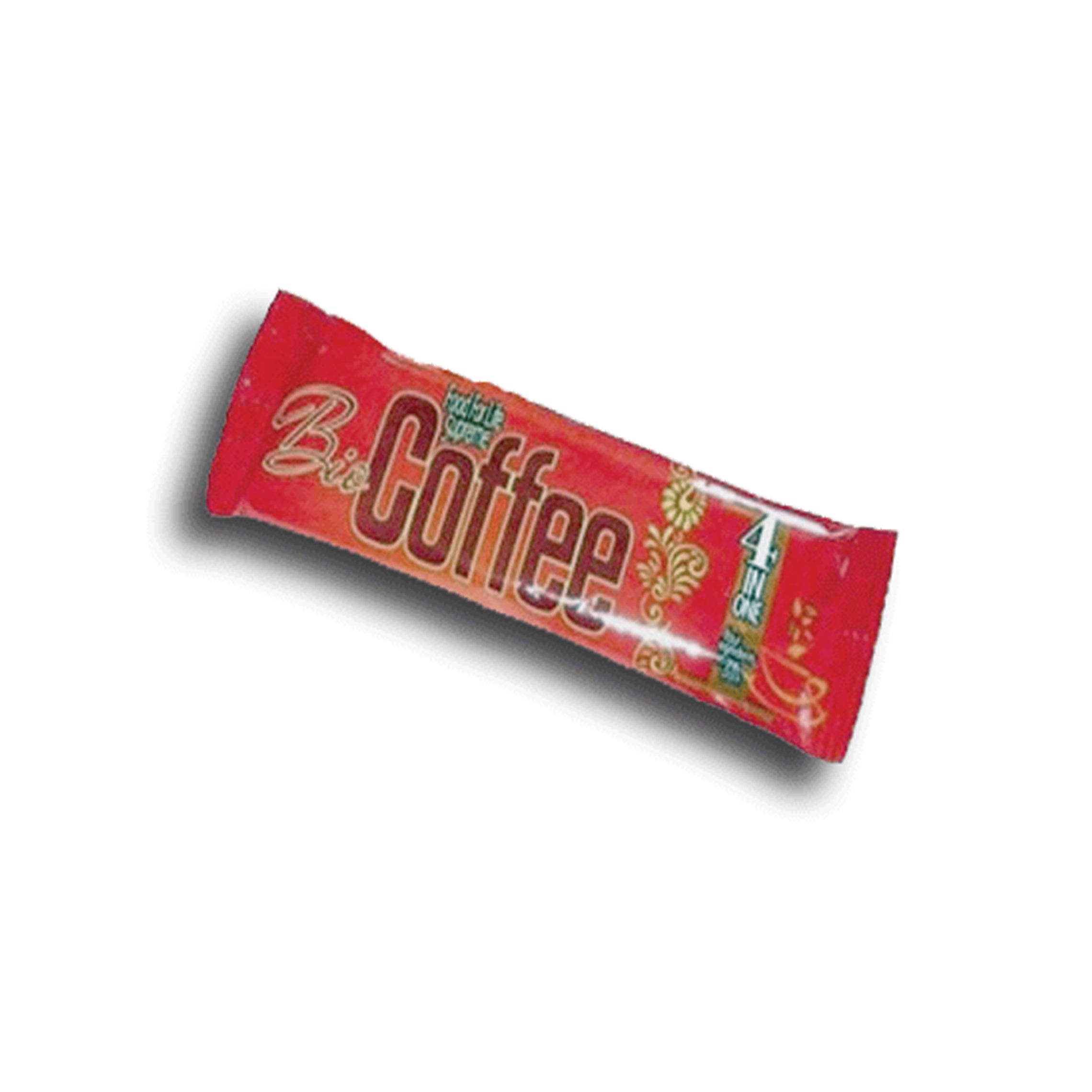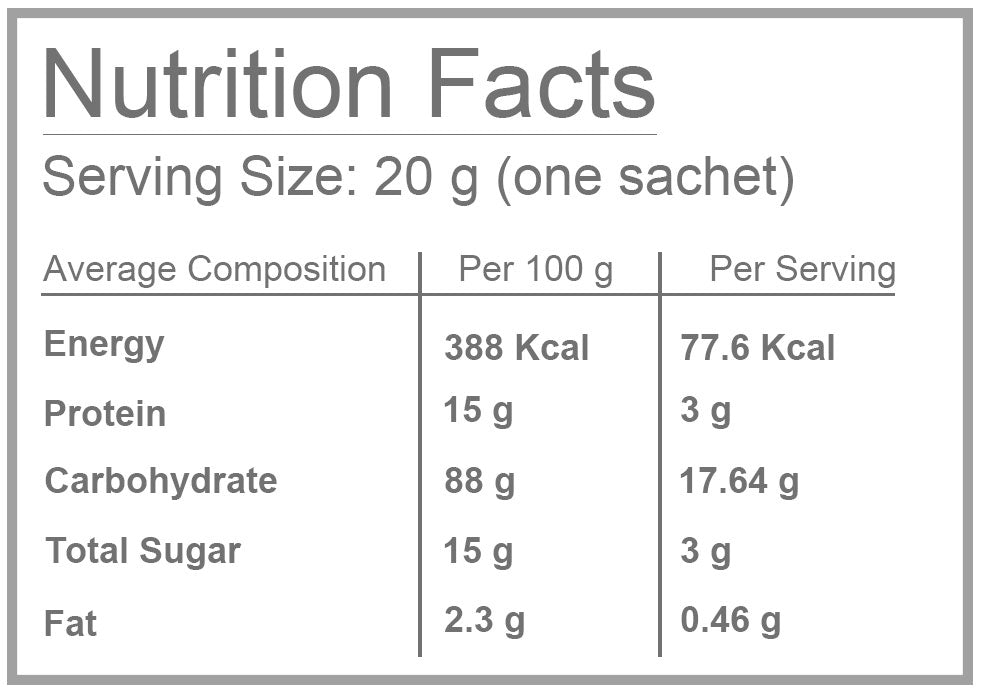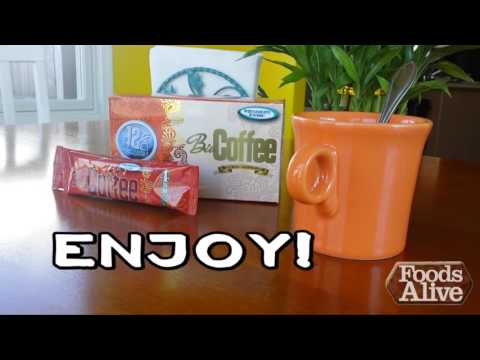 Shipping & Refund Policy
Here at Foods Alive, we like to keep things simple and transparent. That's why we offer both a flat-rate and a free shipping option during the checkout process.
Shipping to Continental US (including Alaska, Hawaii, U.S. Territories and APO/DPO/FPO)
$10 shipping on orders under $69
FREE shipping on orders $69 or more— after any discounts/promotions are applied and before shipping charges or taxes are applied
All orders are shipped either by USPS (1st Class or Priority) or by UPS Ground. A customer's preference for one shipping company over another is not always feasible, so we reserve the right to choose the best method of shipping at our own discretion.
International Shipping (outside of USA)
At this time, we are not able to ship to international addresses. If you are outside of the United States, you can order Foods Alive products through www.iherb.com. They carry most of our items and offer the best international shipping options around.
Returns, Refunds, Replacements
We accept returns for any reason on products bought directly from our website for up to 30-days after receipt. We will refund your purchase price, less return shipping charges, if you use our return label. We can not accept return requests after 30-days.
To request a return label, or if you need further assistance with your return, please contact us by filling out our contact form here.
Once we receive your returned product and it has been inspected, a credit via the original method of payment will be processed within 7 – 10 business days.
If you've purchased our products from a retailer and not directly from us on our website, you will need to reach out to the place of purchase to have your return or replacement processed.
If you have damaged product, please contact us for assistance by filling out our contact form here. Please note, that we may request an image of the damaged product.
Promo Code Restrictions
All promo codes are ONLY valid on Foods Alive products, but EXCLUDES multi-packs, bundles, samples, and bulk items because these items are already discounted. All promo codes are one-time use promo codes.
Promo codes are also NOT valid on 3rd party vendor items such as CocoRinga, BioCoffee, Carafes, Aloe Vera Juice, etc.
California Proposition 65 Warning & Information
California Residents Only
Warning: Cancer and Reproductive Harm – www.P65Warnings.ca.gov/food. - For more info visit foodsalive.com/prop65
Foods Alive takes food safety very seriously. All foods that are grown in nature contain trace levels of naturally occurring elements/minerals such as lead and cadmium, which are naturally present in all soils because they are found in the Earth's crust. Because these minerals, including cadmium and lead, are present naturally in the soil, they are absorbed by plants through their roots along with other nutrients. As a result, there may be unavoidable traces occurring in virtually all foods, including fish, meats, grains, fruits and vegetables.
The Food and Drug Administration (FDA) and other health authorities have determined that tiny traces of naturally occurring minerals in foods are unavoidable and do not present a public health risk, threat of injury, or need for warnings. The FDA regularly monitors the amount of cadmium and lead in food and we ensure that our products safely pass any FDA regulations.

*Contaminants are often expressed in micrograms (mcg). When considering the levels of naturally occurring elements such as lead or cadmium found in food, it is helpful to put these units of measurement into perspective. How much is a Microgram (mcg)? A microgram is one/one-millionth of a gram. To put this unit into perspective, a penny weighs 2 grams. To get a microgram, you would need to divide the penny into 2 million pieces. A microgram is one of those two million pieces.
California law contains what is known as the Safe Drinking Water and Toxic Enforcement Act, also referred to as Proposition 65 ("Prop 65"). Prop 65 is a unique, California-only "right to know" law that requires products sold in California to bear warning notices about potential exposure to any of the over 800 substances (click here for the full list) listed by the state. Prop 65's warning standards are uniquely low and not safety-based. As a practical matter, Prop 65 warnings are required for any product (food or non-food) that exposes an individual in California to virtually any detectable amount of a listed chemical.

Prop 65 does not ban any products from sale in California; it simply requires warnings about the listed chemical contained in the product. No other state has a law similar to Proposition 65, which requires warnings for listed chemicals contained in products at levels that are far below levels known to cause any actual harm, or that are regulated by the FDA or other federal law. Proposition 65 regulates substances officially listed by California as having a 1 in 100,000 chance of causing cancer or birth defects over a 70-year period.

Trace amounts of lead, cadmium, and other metals and chemicals listed under California's Proposition 65 are found in some of even the most carefully selected and sourced ingredients contained in Foods Alive products. Lead, as an example, is a naturally occurring element that is found throughout the entire environment, including in soils where it can be taken up by natural plants and herbs all over the world. None of these elements are added by farmers or by Foods Alive. We follow good manufacturing practices throughout our supply chain to minimize or eliminate any contamination.
Source: US Food and Drug Administration, Total Diet Study Market Baskets 2006 through 2011
Rather than face more unscrupulous lawsuits, Foods Alive prefers to comply with Prop 65 by: (1) providing warnings where there are detectable levels of trace amounts of listed chemicals; or (2) limiting the serving size for California residents to avoid any warning requirement; or (3) placing the Prop 65 warning on all of our products. We strongly believe that any minute levels of the chemicals listed by Prop 65 in its products should be exempted under the "naturally occurring allowance" exception.
Why are there Prop 65 warning labels on so many products in California?
Prop 65 has a "citizen-suit" provision meant to pay for itself and not require funding from the legislature. To add incentive to California citizens to police Prop 65, when a citizen (or private enforcer) brings a lawsuit against a company, they are awarded a payment equal to 25% of the Civic Penalty settlement imposed on the manufacturer.
These individuals and law firms may not have to prove that they have been injured in any way by whatever violation of the Prop 65 they are claiming. Prop 65 allows lawyers and individuals to bring suits against companies and put the burden of truth on the manufacturer. Due to the high costs of litigation, most of these lawsuits settle out of court and never make it to trial. In 2016, businesses paid $30.1 million in Prop 65 settlement payments. Of that total, 72% ($21.5 million) went to attorney's fees.
Example settlement of $100,000: Approximately $72,000 would go to attorney fees and $28,000 would go towards the Civic Penalty. Of that $28,000 Civic Penalty, $7,000 would go to the private individual filing the lawsuit and $21,000 would go to the Office of Environmental Health Hazard Assessment. You can view the 2016 Prop 65 Settlement Summary here.
Will there be any changes to prevent unnecessary Prop 65 lawsuits?
Governor Brown Proposes to Reform Proposition 65: On May 7, 2013, Governor Edmund G. Brown Jr. proposed reforms to strengthen and restore the intent of Proposition 65, a three-decade-old law enacted to protect Californians from harmful chemicals, that has been abused by some unscrupulous lawyers driven by profit rather than public health. Read more about this here.
To learn more visit California's Prop 65 website for additional information.
Disclaimer
The products and claims made about specific products on this website have not been evaluated by the USDA and are not approved to diagnose, treat, cure or prevent disease. The information provided here is for informational purposes only and is not intended as a substitute for advice from your physician. Before undertaking any change in lifestyle or diet, we urge you to seek the guidance and services of qualified, licensed health professionals.